Giving Back
Giving Back to ElderDog Canada and Misfit Manor Dog Rescue
Imagine discovering gifts that give to a person, an animal and the environment all at once! Find these treasures in my Giving Back Collection, where you can spread a little bird sunshine, support Canadian good causes and prevent a bird from being sent to the recycling nest in the sky! 
Shop to Give Back
Spreading their wings!
Art is a process. When I make birds, sometimes they don't all turn out as expected.  The odd blemish, slightly irregular in size, a little quirkier than usual… you get the idea! Rather than abandon these guys, I release them to the world to spread their sunny wings in a unique way. With each purchase from you, a percentage of the price goes to a dog charity!  
My journey with glasswork didn't start with birds. Along the way, I've made dishes, coasters, vases, jewellery and art panels! While I've kept some of these pieces to remind me of the route I took, still others are found in my fundraising collection. You can be part of the journey by purchasing one of these pieces!
Passion helps in creative industry and in running a small local business. A passion of mine is dogs - in particular learning about dog behaviour, dog welfare and dog relationships. I care about nurturing and treasuring the human-dog bond, and so does ElderDog Canada and Misfit Manor Dog Rescue. This is why dog themed studio glass is sold in the Giving Back Collection to support these two Nova Scotian charities!
Funds raised up to Spring 2023: $1270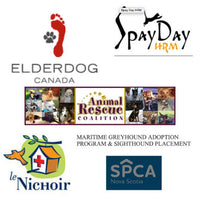 Interac E-Transfers give back too!
The Glass Bakery can donate more money to Dog charities if you pay via electronic transfer rather than credit card. For all retail e-transfer purchases 1% of the retail price (pre-tax) will be pooled and donated at the end of the year to charities we support. Currently this is ElderDog Canada and Misfit Manor Dog Rescue.
The charities in the picture are just some of those The Glass Bakery has supported over the years, thanks to your purchases via this website and fundraising auctions.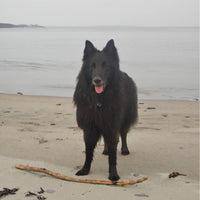 Driftwood for Dogs
Earn money for your favourite dog charity by bringing me driftwood! The Glass Bakery will make a donation to your choice of Canadian Registered Animal Charity in return for usable Driftwood. Please enquire for details.