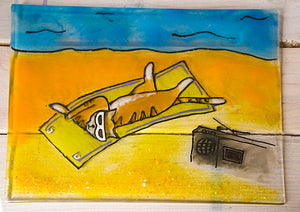 Ginger Cat Glass Panel
Studio-Glass Cat Art: Cat-ching Rays
Ginger's toasting his fur 80's style on the beach! A fun one-of-a-kind artwork for cat enthusiasts, music lovers, the light-hearted or those with Eclectic home decor!
This one-of-a-kind pice is approximately 10"x8". I created the picture by building up and then fusing multiple layers of coloured powdered glass - many times. The black outlining is enamel (finely crushed glass) and renders an illustration-type effect. The panel is ready to display in a handmade wooden slot style stand, though would also look good in a custom frame.
Handcrafted in Nova Scotia from glass (no paints, glazes or molds)
Glass cat panel with wooden slotted stand
Artisan Studio-Glass made in Nova Scotia
Ship within a few business days
Size Approximately 10x8"
Please note that additional shipping and insurance charges will apply for this item. Those charges won't necessarily be reflected in the cart. You'll be contacted to confirm the new shipping rate and take additional payment before delivery .