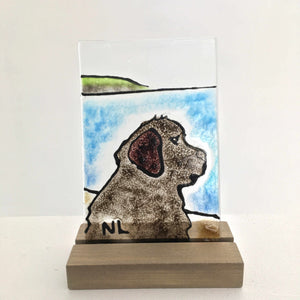 Newfoundland Dog (Glass Art Picture/Window Tile)
10% of the pre-tax purchase price of this piece will be donated to ElderDog Canada 
For Newfoundland Dog Lovers! Lovable, gentle giants. A Newfie keeps a watchful eye on the Bay.
This unique fused studio-glass panel is approximately 6 x 4" complete with a detachable slotted pine stand painted driftwood grey. If you prefer to have this piece in the form of a window sunlight-catcher, just ask and I can drill two holes in the top and thread it with clear monofilament so you can hang the tile in a window. Please make a note in your order comments. Similarly, I can provide a clear acrylic stand if you would prefer that to a wooden base.
The tile is made completely with glass - no coloured paints were used, it's coloured glass! The glass is a mixture of lightly applied opal and transparent powders and has a translucent quality now that it has been kiln-fired. The picture was built up in layers and isn't reversible - it's more like a painting with a definite front and back. The front is glossier with the most detail and pattern.