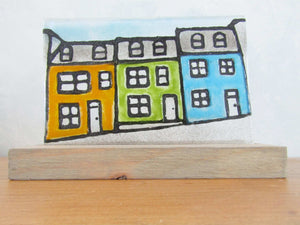 Little Boxes on the Hillside. East Coast Row House Studio-Glass Picture Tile.

25% of the purchase price of this piece will be donated to Misfit Manor Dog Rescue
Description
Inspired by the colourful row houses of towns around the East Coast of Canada, this tile features gold, green and blue box houses on a hill. A range of these tiles were made with different coloured row houses. This one is the last I have available.

The tile has a detachable slotted pine stand painted in complimentary natural colours. If you prefer, for no additional cost, I can drill two holes in the top of each piece and thread them with clear monofilament so the tile could hang in a window. Please make a note in your order comments if this is what you wish.

Details
Limited Edition Handcrafted in Nova Scotia from glass (no paints, glazes or moulds)
Glass picture featuring three coloured houses; plus wood stand
Artisan Studio-Glass made in Nova Scotia
Ships within a few business days
Size Approximately 4x6 "