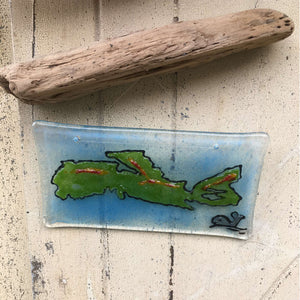 Nova Scotia Glass and Driftwood Mobile
One-of-a-kind sun-catcher: Nova Scotia Outline Glass Tile
20% of the pre-tax purchase price of this piece will be split between and donated to Misfit Manor Dog Rescue and ElderDog Canada
A reminder of "home"!  A unique sun catcher showing not just the outline of the province of Nova Scotia, but also suggesting the provincial mountain areas. I added a little whale as a nod to the whales around Nova Scotias coast.
This picture of Nova Scotia was created using clear and coloured glass. The outline of Nova Scotia was hand-drawn with enamel (finely crushed glass), then layers of coloured crushed glass were carefully built up on the clear shape to fill in the colour. The piece was created over several kiln firings.  Hung on clear monofilament.

Handcrafted in Nova Scotia from clear and coloured glass 
Glass sun- catcher with driftwood
Artisan Studio-Glass made in Nova Scotia
Ship within a few business days
Size Approximately 4.5-5x3 "